In February 2007, I was asked by Gene and Alan Barbee if I would be interested in putting the Nextel Cup engine I had acquired from DEI in their beautiful Barbee Boys roadster in an attempt to break the "C" gas roadster world record of 229.308 MPH during Bonneville Speed Week 2007. They also asked me if I would like to drive it! Well, that was too good of an opportunity to pass up. While we missed the record due to a clutch failure, what we did in three runs was truly amazing, and the competitors knew we where there.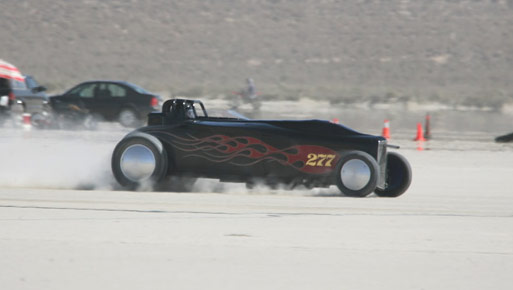 John Weatherwax on a run.
Even though I had completed three licensing runs (129 MPH, 167 MPH, and 182 MPH) at El Mirage dry lake prior to Speed Week, all drivers new to the salt are considered rookies and must make an initial rookie run under 150 MPH. On Saturday, August 11, I made my rookie run at 139.980 MPH, a nice easy drive, shutting off at the 3 mile mark. The next day, August 12, we decided to do a 7500 RPM pass so that I could get a feel for the car over 200 MPH for the first time. This pass resulted in a top speed of 210.733 MPH and the car handled perfectly. As these two prior runs were done in the heat of the day (almost 100 degrees) with a density altitude of over 7,000 feet, the team and I decided to make an early morning pass in cooler conditions on Monday morning. We weren't going all out, just a good hard run to check plugs and fine tune for a record attempt. Unfortunately, we were delayed in getting to the starting line staging area, starting this third run at 1:36 in the afternoon, with a density altitude of 7,441 feet. With a conservative 2 mile speed of 176.916 MPH, I pushed a little harder at the 4 mile mark to record a 5 mile exit speed of 227.894 MPH, a mere mile and a half under the world's record of 229.308 MPH. I was only turning the engine 8150 RPM, well short of the engine redline of 8,500 RPM, and there was a lot more left! Unfortunately, on our record attempt run the next morning, we experienced a clutch failure, putting a premature end to our record chase.